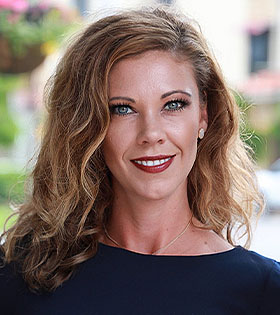 Stacy Fellows found her love for real estate twenty years after starting her professional life. Upon college graduation in Lincoln, Nebraska, Stacy began her career in accounting. She continued in corporate accounting for twenty years, owing to her extreme ability for detail orientation to the time spent with this career. While in accounting, Stacy felt a strong pull toward real estate and developed a passion for helping people achieve their dreams of homeownership.
In 2015 she obtained her real estate license in Omaha and has continued in real estate for over six years. In her first year as a Realtor®, she was honored to be named the Top New Sales Associate of her brokerage. Recently she has represented a custom home builder in the Omaha area. Stacy's goal for her clients is to alleviate the stress of buying and selling real estate. Whether a first-time home buyer, upsizing, downsizing, new construction, or purchasing a second home Stacy helps her clients navigate the entire process for a smooth transaction with 5-star service.
Stacy was born and raised in Nebraska. Her Midwest work ethic and values shine through with every interaction she has with clients. Stacy's family is a top priority for her and the main reason she now calls Venice, Florida, home. She has two adult children, Dalton and Grace. Her beautiful dogs, Maya and Emma, complete her family. When Stacy is not pursuing her passion for helping people achieve their real estate dreams, she can be found spending time at one of the area's beautiful beaches or on any body of water! She enjoys spending time with her family and friends, walking her dogs, working out, reading, going to comedy shows, or catching live music at one of our excellent local restaurants.